A fond farewell to Lowestoft Folk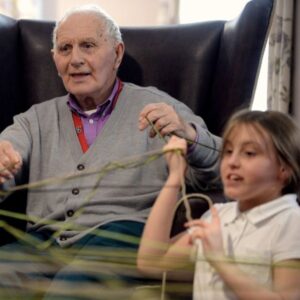 Next month we say a fond goodbye to our fabulous intergenerational project, Lowestoft Folk.
It's been a resounding success, bringing children from three primary schools in Lowestoft together with their older neighbours to explore their shared folk heritage.
Over two years, both young and old have had a great time learning more about each other's lives, and being creative together. They've made a host of inspiring art works, as well as some new pieces for permanent display in Lowestoft Museum and Lowestoft Maritime Museum.
On 12th July, the final session takes place as Pakefield Primary School pupils head to Hildesley Court Retirement Unit to put final touches to their artworks and sing sea shanties they've created together. These will be recorded and incorporated into a new exhibit that will soon be available to see at Lowestoft Maritime Museum.
Over the past two years, we've talked about Lowestoft oddities such as pickled queenies, molgoggers and crocodile spanners. We've created messages in bottles, Suffolk Puffs, printed bags and painted scallop shells – all inspired by Lowestoft's folk heritage.
It's been a real joy.
"I think it's lovely. The whole atmosphere. It's nice to see children, I like looking back." Barbara, Resident
"It's great fun here, I think it's just magical" Justin, Primary school pupil
"I would like to whole heartedly thank you for giving my near 90-year old father-in-law a new lease of life." Daughter of resident
"I thought, as an old man, I had nothing left to offer – but this has shown me that I was wrong, I can still offer things of interest. Thank you." Les, Resident
After such a wonderful project, we have been left enthused and are already planning to continue our intergenerational work in Lowestoft and beyond. We look forward to sharing more news on this in the coming months.
You can read more about the fun we all had over the past two years on our Lowestoft Folk page.