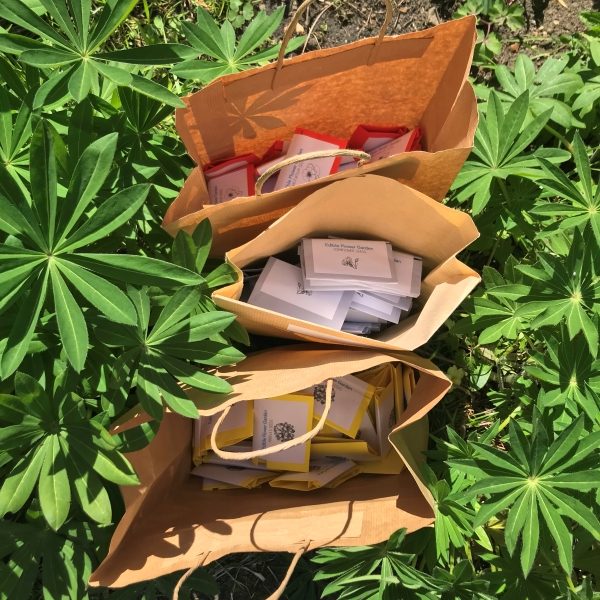 Whilst bringing our family carers together in person isn't possible during this time of social distancing, we are pleased to announce a variety of new ways that we'll be bringing a bit of company and creativity into their lives.
Our wonderful project officer, Kasia, has been working alongside a group of professional artists to create novel initiatives to continue to support our carers in the coming weeks and months.
From telephone trees to foraging fact files, we're offering new ways for our carers to stay in touch and stay inspired.
As part of our Edible Flower Garden activity, seed packets will soon be winging their way to our participants, so that they can start to grow their very own decorative and tasty blooms this summer. We'll be asking our gardeners to document their endeavours along the way – from seedling to edible flower atop a recipe of their choice.
Experienced forager, Jon Tyler, will be producing foraging fact files and recipe cards, which carers can use to inspire a local walk, with delicious results. We plan to share these cards online as soon as they are ready, and will happily make them available to anyone with an interest in foraging.
Our 'Calling from the back of your cupboard' initiative asks our participants to come together to explore those left-behind ingredients in the backs of their kitchen cupboards. What were they bought for? Why didn't they get used? And how might they be able to use them now? This activity will be led by artist, Caroline Gervay and chef, Mike Knowlden, who will be offering online cookery demonstrations providing fresh ideas on how to use up these long forgotten items, starting this week.
We'll soon be sharing what our family carers have been up to, and giving you a chance to have a go at some of the activities yourselves through the Around the Table at Home page.