Bringing imaginations to life in care homes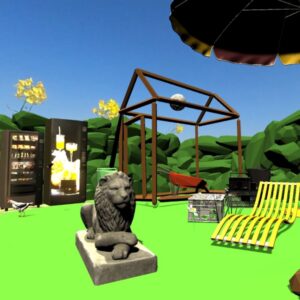 As 2020 comes to a close, we've been excited to see the culmination of our pilot virtual reality project, VR Adventures.
Despite the challenges presented by the year's events, our artists spent the summer testing out virtual reality (VR) technology to find ways to use it to bring new and enjoyable creative experiences to care home residents.
During autumn, they went on to deliver a series of eight remote VR introduction sessions to Broadlands Residential Home.
All five of our artists, from dancers to poets, ran sessions via Zoom to share what they've been working on. They spent time talking with the residents about what virtual reality can do, and exploring the kind of virtual experiences the residents would love to have.
From these conversations, the artists developed an idea – they decided to create a virtual reality garden for the residents to enjoy. Residents shared their thoughts on what they'd like to do and see, and with the help of 360 degree images and soundscapes, the virtual garden took shape.
But this isn't any old garden – it features sights, sounds and experiences suggested by our residents including their favourite flowers, foods and music, along with a pirate's chest, flamingos and even a troupe of Can-can dancers!
Whilst we can't take VR headsets into the homes, we're currently sharing visions of our co-created virtual garden using screen sharing.
When we are able to visit the residents, we'll be adding new sensory features to the gardens to bring it to life, including touch, sound and smell.
Through this work, we've explored ways of using VR to improve wellbeing for people in homes and healthcare settings. We're learning how effective it is to harness peoples' imaginations, and finding new ways of using VR to help them design and experience different, enjoyable environments.
As part of the project, we'll be the first arts and wellbeing organisation to appear on Google's Arts and Culture platform. This gives us the opportunity to share our work with a global audience, including online exhibitions of our students' and participants' creations. Our Google Arts & Culture profile is due to be going live early next year.
We're looking forward to seeing where we can take this work next!