Celebrating BBC Children in Need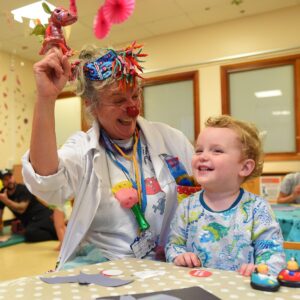 It's the time of year that we say a huge thank you to BBC Children in Need, which has its annual celebration this month. Thanks to their support, the soundtrack to children's wards and EACH Hospices across the East feature fits of giggles, guffaws of laughter and squeals of delight.
Our Clown Round project has been running for over ten years now, thanks to generous grants from Children in Need. Over the years the project has grown, and currently you might spot our Clown Doctors bringing fun, laughter and distraction to young people and their families in Norfolk & Norwich, James Paget, Ipswich and Colchester Hospitals, as well as EACH Hospices in Norfolk and Suffolk.
For the past decade Drs Fidget, Misschief, Curley, Buffle and Daydream have been visiting young patients, engaging them in clowning, storytelling, music, magic, circus skills and improvisation.
Siobhan Johnson, our Project Officer, explains: "Thanks to BBC Children in Need, our Clown Round project has been cheering up children and their families in hospitals and hospices in the East for over a decade.
"With their help, the project continues to grow, and as their campaign week comes to a close again this year, our Clown Doctors are supporting and empowering more young patients than ever before."
A parent at James Paget Hospital said: "What a fantastic thing to do, after a few depressing days we are all full of smiles and laughter. Made my week."
You can still make donations to BBC Children in Need on their website.
Or, if you'd like to find out more about Clown Round, or directly support the project, head to our website.