Celebrating Lowestoft Folk
Last Friday, we held our final celebration event for Lowestoft Folk – and what a celebration it was.
We started with a short film of some of the things the participants have done over the last three months, including the songs they've written, the work they've made and one or two comments about how they feel about it all. You can watch the film here.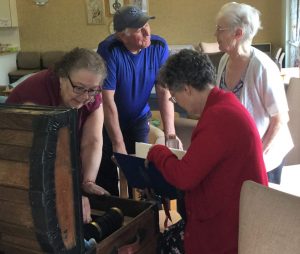 We also introduced participants to the Lowestoft Folk Sea Chest – and the response was over-whelming.
Adults and children alike thought it was beautiful and loved looking at the Maritime Tales story book and turning the handle to make the waves move and the fish leap.
We were joined by family and friends for tea and cake, and then the grand tour through the work.
When it came time to leave, the children collected up their ships in bottles, the hand-stitched pictures and framed decorated shells.
"I've asked my mum to get the phone number here – I'm going to come back and see everyone again," said one student.
"Thank you for everything you've done – it's been fantastic, I've loved every minute," one of the residents told me. "Please come back and do some more – we're going to miss Lowestoft Folk."