Celebrating four more years of creativity for adults with learning disabilities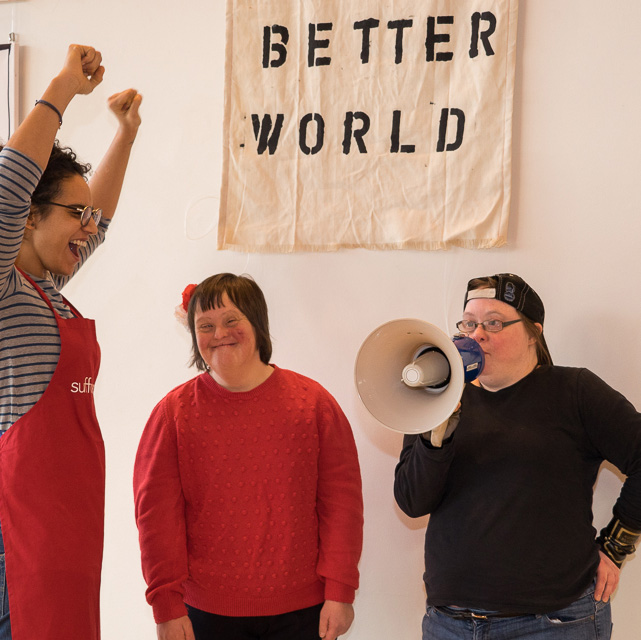 This week we are celebrating an award of £376,309 from the National Lottery Community Fund to deliver a new creative arts course for people with learning disabilities in Suffolk.
Brave Art will offer students in Bury St Edmunds, Lowestoft and Ipswich the opportunity to develop their creative, life and leadership skills through year-long arts courses.
Students will be supported by professional artists and a learning support team to develop their own portfolio of work through exploring art forms including painting, illustration, film-making, theatre, dance and fashion.
Hayley Field, Suffolk Artlink Co-Director, explains: "We are really excited to be able to continue to deliver creative courses for adults with learning disabilities in Suffolk.
"As well as developing our students' artistic skills, taking part in Brave Art will increase overall wellbeing by supporting students to develop life and leadership skills, learn to advocate for themselves and create new friendships and community connections."
Student Andreas Johnson said of a previous Suffolk Artlink course: "Coming here has inspired me to follow my dreams, try new things and make things happen."
The National Lottery Community Fund award will fund four years of Brave Art. The annual courses start this September and will consist of three terms of 12 weeks each. Students can choose to sign up for one year or just one term.
Suffolk Artlink will also be offering taster sessions and open days at the beginning of each term to allow people to try out the course to see if they like it.
All new students applying for the course will have the opportunity to meet with staff and talk about their interests and any support they may need.
The course costs £15 per week.
We are in the process of finalising the new term dates and will make this information available soon.  In the meantime, for more information or to book, contact Charlie or Fran on 01986 873955 / charlie@suffolkartlink.org.uk / fran@suffolkartlink.org.uk.