Creating community in Kirkley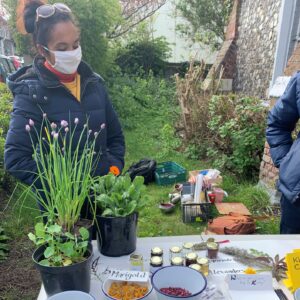 We are welcoming residents in and around Kirkley to grow, eat and share through our new series of inspiring, social and creative weekly get-togethers centred around the area's venues and green spaces.
Every Tuesday from now until August, you can enjoy free activities led by artists, Carrie Phoenix and Kasia Posen, alongside guests including forager, Jon Tyler.
Sessions will take place in venues and green spaces in Kirkley, including the Kirkley Pantry, Kirkley Centre, Bixley Green, Fen Park and a special event on the beach that forms part of 'First Light presents Longest Days of Summer' in June.
Both Carrie and Kasia come from visual art backgrounds, having worked on a variety of interactive installations and performance projects in the UK and abroad independently. Carrie's root is sculptural installation and Kasia's drawing, they began collaborating together in 2019.
Artist, Carrie Phoenix, explains: "This residency is a fantastic opportunity for myself and Kasia to collaborate with the Kirkley community. The architecture and landscape of Kirkley will inform the community workshops, installations and performances that will take place throughout the First Light Residency.
"From foraging and tasting, to drawing and dance, we're inviting you to creatively explore the place you call home alongside your friends and neighbours.
"Many of the activities will leave a lasting legacy to share with the wider Kirkley community. Together we'll be making vibrant planters full of herbs and other edible plants, and a 'free food guide' that shares recipes and instructions for using foraged plants found in Kirkley's green spaces."
Everyone is welcome, no experience is necessary and you can attend as few or as many activities as you like.
You can see the full timetable of activities and booking information on our website.
If you would like to find out more about Kirkley Creates, contact Hayley Field, hayley@suffolkartlink.org.uk / 07857 002974.
We are delivering Kirkley Creates in partnership with First Light Festival, the Kirkley Centre and Kirkley Pantry. The project has been made possible by generous funding from Take Note and ft'work.