Culture, Creativity and Health: Winter Gatherings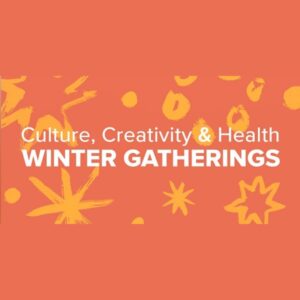 We're looking forward to a week-long selection of virtual regional events and webinars, taking place from the 16 – 20 November 2020, hosted by the Culture, Health and Wellbeing Alliance and Arts & Health South West.
During the morning each day, online Regional Events will take place. The afternoons will offer a series of live webinars and discussions, covering topics including Equality and Diversity, Practitioner support and wellbeing, Learning from lived experience and Creativity and lockdown.
Suffolk Artlink are delighted to be co-hosting the Eastern Region event on Monday 16th November, 10am – 1pm.
The event will be a chance to hear from people working across the sector in the East of England to understand more about the current priorities, opportunities and challenges for Culture Health and Wellbeing.
The programme will also include breakout sessions with case studies and discussions addressing rural working, remote delivery, social prescribing and loneliness. Creative activities will give an experiential learning element and give people a chance to take a break from the screen.
We look forward to seeing you there!
Find out more about the full Winter Gatherings programme
Find out more about the Eastern Region event, and book tickets