Embroidered boats and singing circles
Our penultimate session – and it was all hands on deck to finish off the embroidered boats, securing them in their circular frames and writing messages on the back; one pair went so far as to write a short-long poem, the last verse of which goes: –
But I know the ship will
Come back to me, I've always
Known it would.
'Cos I drew and stitched its lovely sails
And made it look like wood.
And then we all made a different circle, in which everyone shared musical instruments and played and sang and had a wonderful time trying everything from the sea drum to the 'thing-that-goes-boing-when-you-hit-it'.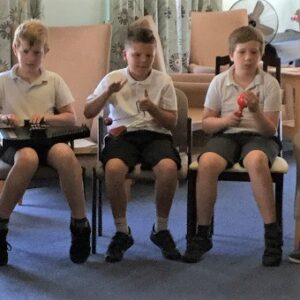 I can hardly believe it's the last session this week – it's been such fun, but at least we'll be back in the autum for our Celebration Event at Hildesley Court on 6th September.