Every clown has a silver lining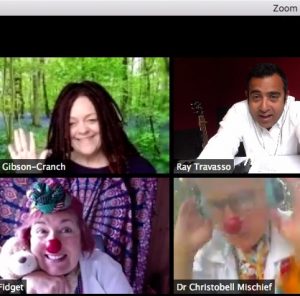 Whilst our Clown Doctors haven't been able to make their usual visits to children in hospitals and hospices around the region, they have been busy trialling new ways of beaming their special brand of fun, laughter and distraction to those that need it the most.
Last week, they were thrilled to trial their first 'Zoom' Clown Round session, which saw them joining an online family visit from EACH Treehouse Hospice in Ipswich.  Despite the distance, our talented clowns created joyful connections with the families over the ether, bringing happiness, relaxation and distraction, just as they would have done in person.
Both the Clown Doctors, and the Hospice were delighted with the impact of the visit.
Ray Travasso from EACH said: 'Fil and Chris were just brilliant. They interacted so beautifully and sensitively with the families. They sang songs, danced like mad and made us all laugh. The families all loved it and they were so pleased to see them join with us.  We are so proud to work with them and look forward to the next time.'
Thanks to the success of the trial visit, we are now busy thinking about how we can deliver more visits in this way, whilst we are unable to see our little patients in person.
As well as online visits, our Clown Doctors have created a series of silly videos that we will be providing to our hospitals, hospices and families to access remotely when they feel in need of a bit of Clown Round magic.
Whilst this is a challenging time, we are pleased that it has also provided us an opportunity to explore new ways of reaching children and families that will increase the impact of the Clown Round project in future.
Our videos will have a life beyond lock down, giving our partners new resources to use in between visits from our Clown Doctors, and we are excited to have new tools for supporting children in their homes too – so it's looking like every clown really does have a silver lining!