Festival Fun for our JumpstART students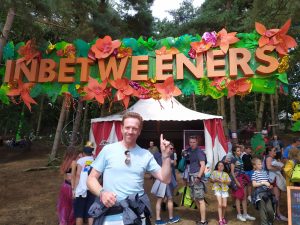 Our JumpstART students have had an amazing summer showing their fabulous creations at a wide array of arts festivals around the county.
In June, we saw our Lowestoft students' beautiful light installations hanging from the trees in Kensington Gradens at First Light Festival in Lowestoft. These twinkling beauties were enjoyed by thousands of visitors who attended the event in its inaugural year.
During July our students headed to Latitude Festival to see the new signage and décor they had been commissioned to make for the Festival's InBetweener's Area, and what a fantastic job they did! So much so, it attracted the attention of Hollywood actor, Damian Lewis, who loved their work so much he allowed his only photo of the event to be taken below their colourful creation.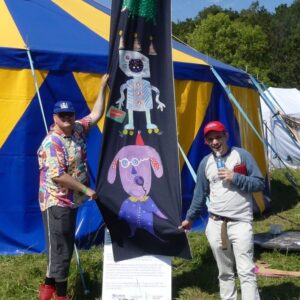 During August, the lovely people at Folk East included a screening of our students' Protest Arts film in the Festival programme and some more beautiful décor, including these beautiful 5ft monster flags, took centre stage at Maui Waui Festival.
It's fair to say our students had a great summer!  They loved making their works of art, and had great fun attending a variety of festivals to see their creations in situ.
Next stop, Out There Festival in Great Yarmouth later this month – keep an eye out for their work!
It's been a brilliant end to a really wonderful four years of arts courses for adults with learning disabilities.
And whilst JumpstART comes to an end, next week we launch Brave Art, our new four- year programme of weekly arts workshops for adults with learning disabilities across Suffolk.
Taking place in Lowestoft, Ipswich and Bury St Edmunds, we welcome new students, so please get in touch if you're interested in attending, or know someone that might be. You can find more information about Brave Art here.