Lowestoft Folk – and heritage open days
What an amazing week of Lowestoft Folk fun.
First, story teller Lynn and artist Kate went to Elm Tree Primary School, where they worked in the specialist deaf and speech and language units.
The children really enjoyed the story and all joined in with making their very own boats-in-bottles and silver darlings.
On Saturday, as part of the Heritage Open Days programme at Lowestoft Museum, Lynn wheeled the Cabinet of Curiosity out into the park, and invited visitors, both local and on holiday, to explore the treasures inside the tiny, gold-leaf lined drawers.
"I can't believe they listened," commented one parent, as her children stood, enthralled by Lynn's stories of spies, crushed mouse and strings of sausages. Having listened to explanations about Lowestoft Crest ware and pin point work by a local shoemaker, a visitor told us, "We feel like we're already a bit of an expert – we'd better go in and have a look at what's inside."
On Sunday, it was all down to the Maritime Museum – this time with artist Caitlin and musician Mary. The weather was glorious, and we set up the Sea Chest outside in the park and set to work making silver darlings and decorating shells, whilst Mary was joined by members of her singing group in Norwich, who proceeded to sing some of the shanties composed during the project. Listen to one of the shanties.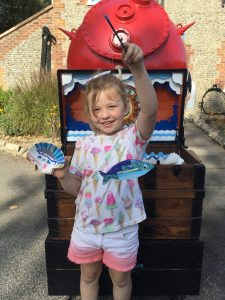 As ever, our thanks to all our marvellous artists, the wonderfully supportive volunteers at both Museums – and to all the people who came along, joined in and were so enthusiastic about Lowestoft Folk.