Lowestoft Folk at the library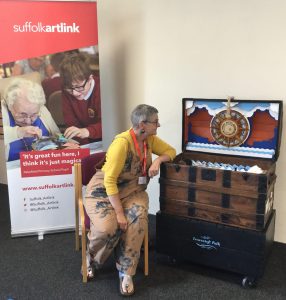 The sun sizzled, the temperature soared – and Lowestoft Folk sailed into the main library in town, for a story time of Maritime Tales and a creative session, making tiny seascapes in petri dishes.
Lynn told the Maritime Tales whilst Sue – a BSL signer – interpreted the story. Everyone said how much they enjoyed it, and even Varley, the Hearing Dog for Deaf People, seemed to be having a good time.
Meanwhile, over on the other side of the library, Kate was busy helping children create tiny little seascapes in petri dishes.
Once complete, a thin strip of wire was inserted into the dish, so that it could be suspended in front of a window; as the light shone through the dish, the amazing acetate colours really came to life, creating a truly magical image.
This was the second outing for the glorious Lowestoft Folk Sea Chest. We'll be taking it to Britten Court Care Home later this week, and then on to Hildesley Court next week, for our celebration event. After that, the Sea Chest will go to its new home at the Lowestoft Maritime Museum.