Making space for more carers Around the Table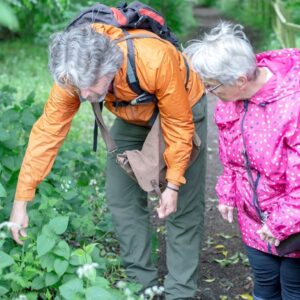 Thanks to funding provided by Arts Council England and Suffolk Carers Fund, we have been able to extend our programme of free creative get-togethers for family carers across Suffolk, led by a rich variety of experienced chefs, foodies and artists.
The new creative sessions are building on our successful 'Around the Table' project, which to date, we've been delivering in Lowestoft, Bury St Edmunds and Halesworth.
From March this year, we are looking forward to welcoming family carers in and around Stowmarket.
In March and April, sessions will be offered online, in order to meet current Government social distancing restrictions. It is hoped that as the year progresses, sessions can be offered face-to-face, outdoors and at the Museum of East Anglian Life.
During the two-hour creative get-togethers, carers will be given an opportunity to take part in activities including cooking world cuisine, foraging and poetry.
We can also provide carers a way to connect with the project, and each other, through post and telephone if preferred.
Kasia Don-Daniel, Suffolk Artlink Project Officer, explains: "It's been a challenging time for everyone, particularly those that have caring responsibilities. We're looking forward to giving family carers the opportunity to try new creative activities, gain fresh inspiration whilst connecting with each other in a welcoming and friendly environment."
The full programme of activities is free, and can be found here.
Carers are welcome to attend as many or as few of the get-togethers as they are able.
Places are limited for face-to-face Around the Table sessions, so please book for these in advance.
If you would like to take part in the sessions and activities either online, in person, or by telephone and post, contact Kasia Don-Daniel, kasia@suffolkartlink.org.uk / 07704 068327.