Meet the artist – Carrie Phoenix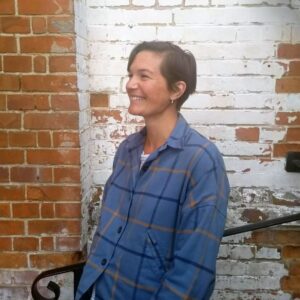 As well as being a talented artist, we are lucky enough to have Carrie Phoenix on the Suffolk Artlink team.  Her experience as an artist brings her a depth of knowledge that allows her to deliver our projects with exceptional insight and creativity.
Name: Carrie Phoenix
Can you tell us a little bit about your own practice?
My work explores the importance of playful space with sculptural installation as a root. More recently I have used my skills to aid others in exploring and benefitting from art.
Engaging in playful collaboration has been central to my practice for some time. I use form as a communicative tool in installations and workshops, drawing on childlike recreation to explore the world we live in.
What's been your favourite artistic experience of the past 12 months?
Connecting with fellow artist Kasia Posen to initiate a new collaborative partnership called The Third Person. We are using identity as a focal point to explore a new way of working. The Third Person sees Kasia and I exploring ideas with new eyes, neither one nor the other, The Third Person will be something totally unique that neither can create alone. This allows us both to relinquish control, take risks and opens the opportunity for free-flow ideas and unknown outcomes.
Which Suffolk Artlink projects have you worked on to date?
JumpstART, Clown Round, Avenues, Around the Table, Giggle Visits, Our Place and Step-Up
How has working with Suffolk Artlink influenced your work?
They have opened up the opportunity for me to use the skills I have acquired over the years in a positive and useful way. Through working for Suffolk Artlink, I have been able to realise a way of working that helps me to enable others, which gives me huge enjoyment and satisfaction.  Facilitating and devising creative projects also enables me to continue to work creatively in harmony with family life.
How would you describe Suffolk Artlink in 3 words?
Inclusive, positive and encompassing
Find out more:   carriephoenix.com
You can find out more about my collaboration with Kasia Posen on Instagram: @_the_third_person