Meet the artist – Gillian Allard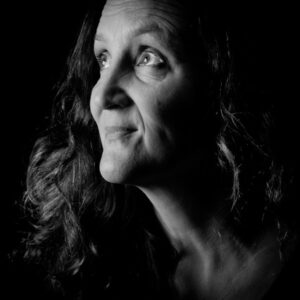 We recently welcomed photographer, Gillian Allard, to our roster of talented artists, and she's already made a big impact. Most recently, Gillian has been working with our Brave Art students, supporting them to take a series of really spectacular portraits as they explore the theme of Transformation. We'll be sharing the results of this session with you soon, but in the meantime, here's a bit more about this highly skilled and inspiring artist:
Can you tell us a little bit about your own practice?
My practice has evolved with me over my rather long career. After completing my MA at the Royal College of Art, I worked as an editorial photographer and latterly exhibited more unusual landscape and fine art photography nationally and internationally too. My personal specialism is bonding photographic images to alternative surfaces such as wood and stone. In 2017 I was the very fortunate winner of Sky Arts Master of Photography TV competition based in Rome. The prize enabled me to move on from my part-time photography teaching job in a sixth form and develop my own work, deliver on more commercial projects and create unique teaching experiences for a wide range of people. I also run my own Creative Camera Club for adult learners
What's been your favourite artistic experience of the past 12 months?
In 2019 I worked with groups of Unaccompanied Asylum-Seeking Children over a period of about 10 months in partnership with Suffolk County Council to assist the group in learning about their new environment. The project was linked to my own body of work 'Refugee Stories' created for the PhotoEast Festival in 2018. I devised a DSLR Photo Skills course made up of creative and technical tasks. It was a very rewarding and fun project and their outcomes reflected their remarkable visual capabilities as well as their resilience and positivity.
Which Suffolk Artlink projects have you worked on to date?
So far I have worked on Make, Do & Friends and Brave Art
How has working with Suffolk Artlink influenced your work?
My recent experience with the Brave Art project was wonderful. The participants were so enthusiastic, creative and fun and their openness and lack of pretension is reflected in their dynamic and open-hearted photographic compositions.
How would you describe Suffolk Artlink in 3 words?
Inclusive, Creative and Unique
Find out more about artist: https://www.gillian-allard.com/