Meet the Artist: Mary Lovett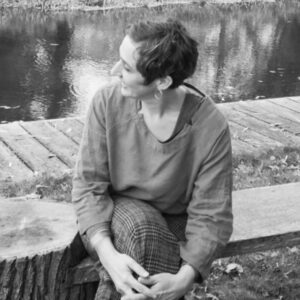 Musician, Mary Lovett, brought a touch of musical magic to Lowestoft Folk this year, and we're glad that she too experienced moments of magic by being part of our intergenerational success story.
Can you tell us a little bit about your own practice?
I am a musician, performer and composer with a background in early years. I work in community projects ranging from Early Years action research into speech and language delay, community choirs and community theatre. I am a walk about street performer in various guises, as well as running three regular daytime singing groups in and around Norwich. So my working life is quite varied which I enjoy.
What's been your favourite artistic experience of the past 12 months?
This has to be working on Lowestoft Folk, the intergenerational project run by Suffolk Artlink bringing primary school children together with residents in care homes. There have been some really beautiful and touching moments in this project. Particularly the magic of a darkened room with torches, shadow puppets, musical accompaniment from the Shruti box and both children and residents singing a song they had learned earlier in the session. Just magic. I am so happy to be doing this as I think that children and elders have so much to offer each other. It has been an absolute joy to work on this project.
Which Suffolk Artlink projects have you worked on to date?
I worked on a singing project in a sheltered housing complex in Suffolk in 2016 and, currently, Lowestoft Folk.
How has working with Suffolk Artlink influenced your work?
Suffolk Artlink has made it possible for me as an individual practitioner to work on intergenerational projects. It is something that I have wanted to do for years now. As a lone freelance artist this is a difficult thing to set up on your own. Suffolk Artlink has done all the hard work brokering the relationships with schools and care homes and made this possible. It has made me want to collaborate with artists with different art forms.
How would you describe Suffolk Artlink in 3 words?
Creative, Innovative, Joyful
Find out more about artist: https://www.marylovettmusic.com/