Meet the artist – Tina Hannay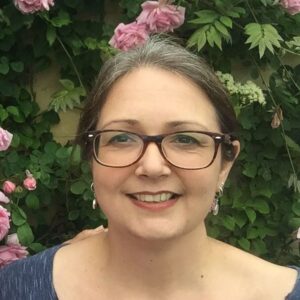 Tina is a visual artist who uses installations and collaborations to respond to her environment for the benefit of the people around her – so she's the perfect artist to join team Suffolk Artlink to help us deliver the second year of Make, Do & Friends!
Name: Tina Hannay
Can you tell us a little bit about your own practice?
I work in/with whatever medium best suits an idea, and this can range from paper pulp, to porcelain to ping pong balls & parachutes. I'm fascinated with the way that people communicate & don't communicate with each other, so this is often a theme; for example, the way that people can speak the same language and not understand each other, or not have to speak and yet be understood with a glance.
There's often an element of participation: an invitation to the audience to become a part of the work, or a situation in which I aim to facilitate connections and communication between people by guiding them in a creative process. For example, group paper-making: creating large sheets of paper formed from pulp made with contributions participants have brought with them. The hope is that people can get involved in a communal creative process and also take away with them a new skill which they might continue to use.
What's been your favourite artistic experience of the past 12 months?
The challenge of exhibiting at The Cut earlier this year, with my first solo exhibition of installations. The Malt Room Gallery & Cafe are quite imposing and exciting spaces and I wanted to use them well! It was an intensive install fixing nearly 3,000 hand cast porcelain light switches to the wall and creating large scale sculptures from a parachute and street-lamp shades. It was a wonderful opportunity to put several of my large works together in a room to see what they had to say to each other!
Which Suffolk Artlink projects have you worked on to date?
I am delighted to have been involved with the Make, Do & Friends project, both as an artist & through my work with the Rural Coffee Caravan charity, during which we are connecting rural folk across the county to each other and taking to them to an opportunity to be creative.
How has working with Suffolk Artlink influenced your work?
It's expanded my excitement about collaboration and the benefits that can be gained from sharing ideas, sharing skills and working together. Not only with the wonderful artists I've had the pleasure to work with on the project, but also in encouraging the participants to make those connections themselves. When someone walks out of a workshop or an event a little more empowered, with a little more confidence, a sense of achievement & joy in what they've just taken part in, and even a new friend, it's magic.
How would you describe Suffolk Artlink in 3 words?
Creative community connectors
Find out more about artist: www.tinahannay.com / Instagram: @tinahannay