New creative get-togethers for older people in 2020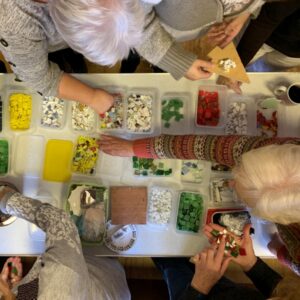 As Make, Do & Friends moves into its second year, we are pleased to announce a new programme of free creative and social events bringing older generations together with their friends and neighbours in rural towns and villages in Suffolk.
Let by professional artists, the sessions will free and the activities as varied as the places we are visiting. And, most importantly, tea and cake will be provided!
Lavenham's new Radio Drama Club
In Lavenham, we're launching a new Radio Drama Club. ln our project officer's own words: 'It's like a book club but without the homework!' Why not come along, listen to a short radio play together in a welcoming, friendly atmosphere and share your thoughts about the plot, the acting and the sound effects? We're holding a taster event on Tuesday 3rd March at 2.30pm -4pm, which will lead onto a series of regular get-togethers.
What is your village made of?
Over in Wingfield, Syleham and Beyton, we're excited to be bringing a brand-new series of events, themed around what makes your local area special for you. 'What is your village made of?' will invite you to come together to creatively explore artefacts, anecdotes and photographs about your village, led by a team of professional artists.
If you'd like to find out more, why not come along to a taster session on Wednesday 26th February in Beyton's church vestry and on Thursday 19th March in Wingfield and Syleham's village hall? Each taster session will be followed by a series of five creative and social get-togethers running this Spring and Summer. More locations announced soon.
Find your voice in Westhorpe
Our Natural Voice Singing Group in Westhorpe proved a huge success last year, and continues into 2020, offering you the opportunity to celebrate your voice, and make a group sound together with others. Songs are learned by ear so you don't need to read music, and will include folk songs, world music and sea shanties. Next session is on Wednesday 19th February.
Make, Do & Friends Showcase
If you'd like to find out more about our Make, Do & Friends project, why not attend our showcase event at Wingfield Barns on Wednesday 4th March, 10am -1pm including a The Dance WE Made by Tim Casson, creative workshops as well as tasty refreshments. We'll be sharing more of the creative activities on offer across Mid-Suffolk and Babergh, and encouraging you to join us in a village or town near you.
You can find more information about the full Make, Do & Friends programme here.