New Make, Do & Friends online activities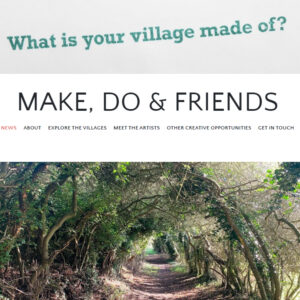 We are delighted to announce the launch of the brand new blog site for Make, Do and Friends, our programme of creative social events for adults (55+) in villages and towns in Mid Suffolk and Babergh.
As the artists can't come out to see you all in person, they have been busy devising ways to run 'virtual' workshops; the result is this experimental online creative space.
Each week, a different artist will post a creative activity, inviting residents to explore what their village is made of. Participants are asked to send in their response, be it a piece of creative writing, a photograph or even, possibly, a snippet of song.
Our artists will then use all these contributions to weave an online tapestry of Suffolk village life.
If you'd like to take part, you are welcome to submit your response by email or post. We are also more than happy to arrange telephone calls between our artists and village residents, for a 'creative conversation' about your village.
Please visit the blog site for further information and to join in the first workshop, launched today, and presented by poet, Dean Parkin.