Our Clowns return to their rounds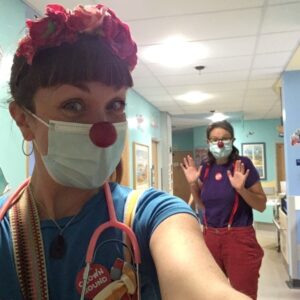 We were so pleased to see our Clowns return to their rounds on the children's ward at Norfolk & Norwich Hospital this autumn. Drs Dizzy Daydream, Christobel Misschief, Kerfuffle Buffle and Kimble Curly have been paying regular visits since September and, whilst following social distancing and other safety precautions required by the hospital, they are finding ways of getting up to their usual mischief!
With their noses sitting atop their medical masks, as they maintain a strict 2 metre distance from staff, children and each other, we've been thrilled to discover that their special clowning powers still do the trick. Joy easily leaps the distance; smiles bridge the gap; and silliness knows no bounds!
It's a real testimony to their skill that, despite being unable to get close to their audience, without their usual props and a hiatus on bubbles (a real blow for Dr Misschief!) they are finding new ways to entertain, distract and comfort the young patients and their families.
We've got more visits pencilled in between now and Christmas, as long as Government restrictions allow.
We've also been trialling new ways to support our EACH Hospices in Norfolk and Suffolk through Zoom visits from our clowns, and we've even tried a live visit in person through a window!
We continue to work alongside all of our project partners to ensure a safe return of the clowns in all of our locations. We are looking forward to continuing to support as many young people and their families across the region as we can, just as soon as is safely possible.