Special Delivery to Abbots Green Academy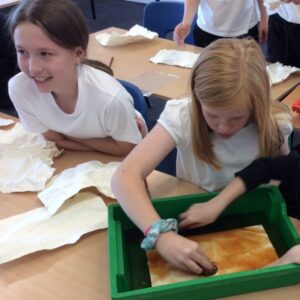 What a joy to start our brand new intergenerational project, Special Delivery, this summer.
We have spent enjoyable and inspiring times with pupils from Abbots Green Academy thanks to the power of Zoom, and some brilliantly creative artists.
Each week, we beamed our artists over to the school in Bury St Edmunds, as we explored the Dunkirk Letters – written by members of the Suffolk Regiment and housed at the Suffolk Record Office.
In the last three months, we have listened to brand new stories, created poems and self-portraits, drawn to music, made unique envelopes, aged paper in trays of cold tea and crafted decorated greetings cards – all inspired by the soldiers' letters home.
We also spent time thinking about 'little things' we are glad of, just as the soldiers wrote about in their letters home from Dunkirk. Their appreciation of shaving soap and writing paper inspired us to think about the little things that are helping us to enjoy day to day life amidst our own challenges.
'Little things'
by pupils at Abbots Green Academy
Oh, some nice hot food, please – cauliflower cheese,
My pillow, I'd want my pillow, to cuddle at night.
Clean clothes, lots of clean clothes,
With warm socks, a hat and gloves.
Soap, and my tracky bottoms – they're cosy and snug.
A roast dinner, Christmas dinner, that would be best.
A blanket, a blanket to lie on or
Something softer than soil, for my rest.
Along the way, we were joined by members of Bury St Edmunds Theatre Royal 'Act Your Age' group, who brought some of the letters to life by writing and performing monologues inspired by the authors' words.
We also learned a little about how stories from the past are stored in archives, and talked about what heritage means to us all, thanks to a visit from Hannah Salisbury, a Community and Learning Officer from Suffolk Archives.
A huge thank you to everyone involved in making Special Delivery so very special this year, especially the staff and children at Abbots Green Academy; you've all been brilliant!
We can't wait to get started again next year when we'll be in Lowestoft, working with pupils from Pakefield Primary and residents at Hildesley Court, as we explore some of the fascinating letters archived in the Suffolk Record Office there.