Suffolk Artlink heads to First Light Festival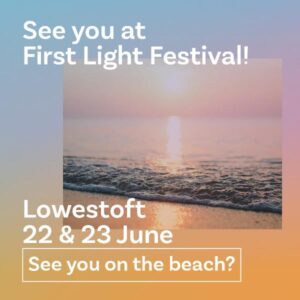 As the summer solstice approaches, we're getting ready to head to Lowestoft to take part in First Light Festival this weekend, and we'd love to see you there.
Starting at 12 noon on Saturday 22nd June, First Light Festival is a brand new, 24-hour festival for the UK. With more than 100 free events, why not join us in Lowestoft to celebrate the first light of midsummer's weekend at Britain's most easterly point.
If you'd like to come and enjoy some of Suffolk Artlink's contributions to the Festival, you'll find us here:
Suffolk Artlink Stall
Saturday 22nd June 10am – 6pm and Sunday 23rd June 10am – 12noon
Location: Children's Zone
Drop by our stall to try your hand at decorating your own beach pebble. You might want to keep it, give it to a friend or loved one, or why not hide it on the beach for someone to find?
Lowestoft Folk Tales
Saturday 22nd June, 2pm
Cosmic Pirate Tipis on the Beach
If you are in the mood for a tall tale, find us at the Cosmic Pirates tent to enjoy a story about some Lowestoft Folk through the ages, and how they led two children to discover the town's special secret. Then stay around to get creative and design and print your very own bag.
The event will be BSL Signed.
Festival Decor
Throughout the Festival
Kensington Gardens
Make your way to Kensington Gardens to enjoy decorations in the trees created by our Lowestoft JumpstART students. Their innovative little decorations will be there to enjoy throughout the festival.
You can check out the full programme on First Light Festival's website.