Suffolk Artlink study provides further evidence that creative engagement in hospitals helps boost wellbeing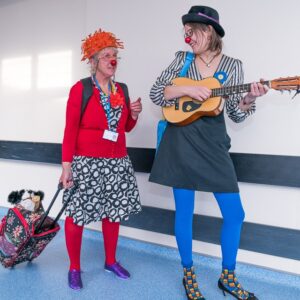 During 2019, we performed a year-long evaluation of the impact of our Forget-Me-Not artist visits at Ipswich and West Suffolk Hospitals. We have now published the results and are pleased to see that they clearly show that the visits had a positive impact on the wellbeing of patients and their family members both during, and for a sustained period after, the visits. 
In many cases, improvements to mood and behaviour were seen to last beyond the duration of the artist visits, and our evidence suggested that the positive impacts were also felt by nearby patients, who weren't directly interacting with the Forget-Me-Not Visitors.
Our programme was shown to reduce feelings of anxiety, boredom, fear, depression and frustration in patients. It was also evidenced to help to build confidence and resilience as well as providing valuable opportunities for emotional expression.
One of the great finds was that it was not only patients that were revealed to benefit – the project was evidenced to support family members at crisis point, enabling them to engage with their loved ones at a difficult time, and offering a distraction from the stresses of their situation for a little while.
Our key findings included:
86% of the participants demonstrated a positive change to their level of happiness

82% of the participants demonstrated a decrease to their levels of anxiety

74% of participants experienced a positive change to their level of engagement with family, visitors and hospital staff.
Throughout the evaluation, we observed 810 patients at Ipswich Hospital and West Suffolk Hospital during one year. To measure the impact of the project, we incorporated a number of research methods including Dementia Care Mapping, an observational tool recognised by the National Institute for Health and Clinical Excellence.
We also collected qualitative data for each patient, measuring changes to levels of anxiety, happiness, relaxation and engagement and gathered data through a comments log book for participants, family members and medical staff. Throughout the year, we were able to compile a number of more in depth case studies too, giving us a deeper insight into the project's benefits.
Earlier research has shown that, on average, people living with dementia in care spend only two minutes a day participating in meaningful engagement, so we are pleased to be able to evidence the impact of using artists to build confidence and resilience amongst patients and their families. These types of intervention clearly complement the role of medical and healthcare professionals and we are hopeful that this will make a case for many more programmes like the Forget-Me-Not Visitors in medical settings across the UK.
Julie Sadler, Senior Nurse at Ipswich Hospital, one of our partners on the project, explained to us: "The artists can offer patients a level of engagement that we cannot. They utilise their emotional intelligence to be responsive to people's needs and encourage an important emotional connection."
We are pleased that this report builds on a growing body of support for the use of therapeutic arts and clowning, an increasing practice within medical settings across the world, and have been happy to hear from organisations running similar programmes across the UK.
Hearts & Minds, based in Edinburgh, have been taking the art of therapeutic clowning to hundreds of patients, young and old, for the past 20 years. 
Their Artistic Director, Suzie Ferguson, explained: "I am delighted to see the positive difference the Forget-Me-Not Visitors programme is making to the lives of people living with dementia in Suffolk. When Hearts & Minds piloted The Elderflowers Programme in Scotland 20 years ago, we could never have imagined it being taken up all over the world, in places as far afield as Brazil, Canada & Australia. It is a testament to the fact that this is an art form that puts meaningful human connection at the centre of each interaction and no matter who or where you are, that is vital to positive wellbeing."
You can read our full Forget-Me-Not Visitors Impact Report here
You can watch a film about the Forget-Me-Not Visitors here