Suffolk Open Studios partnership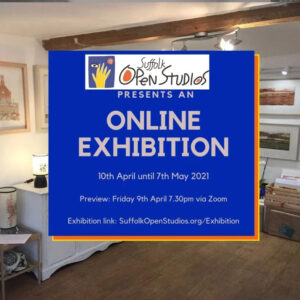 Our partnership with Suffolk Open Studios continues into 2021, we have been invited to judge their first online exhibition, launching on 10th April.
The exhibition precedes the Suffolk Open Studios scheme, which takes place in June this year, and features around 100 individual artworks by a variety of Suffolk-based artists.
A panel consisting of Suffolk Artlink staff and trustees are currently choosing winners for prize categories including:
Best of Suffolk Award – Awarded to artwork that shows the best that Suffolk has to offer.
Making a Difference Award – Awarded to artwork that displays a positive outlook and makes a positive difference to the viewer.
Igniting Inspirational Award – Awarded to inspirational artwork, taking a new view on subject matters, materials or art.
We are also delighted that our Brave Art students have also been invited to give their own special award, for which they have chosen the theme 'Utopia'.
Our panels will be meeting next week to decide on their winners, which will be announced live at the exhibition's online preview event taking place on 9th April at 7.30pm on Zoom.
Do join us for the live online preview event if you can make it – we've had a sneaky peek and there are some fantastic works of art on exhibition, and for sale!
If you can't make the live event, the exhibition will run online until 5th May, so there's plenty of time to take a look.
You can read more about the Suffolk Open Studios online exhibition here.