Supporting our Brave Art community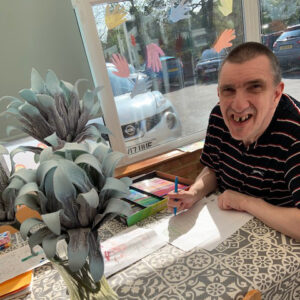 It's been an interesting time for our Brave Art project, whose thriving creative community of learning disabled artists benefit so much not just from weekly creative activities and inspiration, but also from enjoying shared time with artists, tutors, volunteers and their fellow students.
However, we are delighted to be keeping our community connected during this time, thanks to a bit of technical wizardry, as well as good old phone and post!
Our project officers have designed a regular timetable of events to help our students stay in touch, and stay creative. These include weekly Zoom 'warm ups' that take an element of our face-to-face delivery online, bringing our students together for an invigorating start to the day each Monday. On Wednesdays, we're keeping in touch with our students through wellbeing phone calls, and every other Thursday there is an online quiz night.
Keeping the creativity alive is our brand new Brave Art resource booklet, which is winging its way to our students' homes as I write, packed full of creative and wellbeing activities carefully crafted by our artists and learning support tutors. We're looking forward to seeing the students' responses to the 'portrait challenge', fashion illustration exercise and home printing 'how to' guide, to name just a few!
We've also been really pleased to see our new Facebook Group thriving, providing students from Bury, Lowestoft and Ipswich an online space to share and take part in weekly creative challenges together – many of which are set by the students themselves!
All of the wonderful creative work that our students have been doing since lockdown began is regularly posted for their families, carers and fellow students to enjoy – and it's even started up some 'creative conversations' which sees two students making and sharing pieces of work to inspire the other, resulting in a creative dialogue as the weeks pass by.
We are really pleased to be developing new ways of providing support to our students during lockdown, and know that some of these resources will add great value to our future face-to-face courses too.
We couldn't be prouder of our students, and remain committed to keeping them creatively connected until we can all be together again!