Supporting our communities through music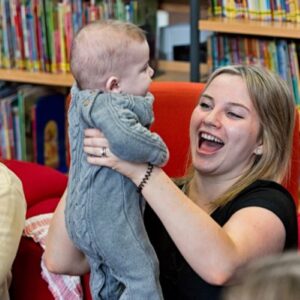 We're embarking upon a new project in partnership with Suffolk Libraries that aims to improve wellbeing, child development and musical engagement amongst pre-school children.
Running until April 2021, 'Little Beats' will bring musicians, an early years music educator / researcher and an early years movement specialist together with librarians from Great Cornard and Lowestoft.
By sharing skills and experience, our artists and librarians will build their confidence and creativity to deliver musical activities within regular music groups for pre-school children and their parents.
In early 2021, we'll be launching a new music group in Lowestoft, and working with an existing group in Great Cornard, informed by the learning that takes place during this year's research phase.
At the end of the project, Suffolk Libraries will also be producing and distributing a Suffolk Songbook that shares ideas and inspiration from the project with library staff right across the county.
Alex Casey explains: "There is a lot of good evidence to demonstrate the positive impact music can have on early years development, from improving mother-infant bonding, to supporting speech and language development.
"We are delighted to be working with Suffolk Libraries on this project and look forward to developing new resources and inspiring content for their popular Wordplay programme."
Little Beats has been made possible thanks to funding provided by Youth Music.