Tom gets pre-school tots rocking!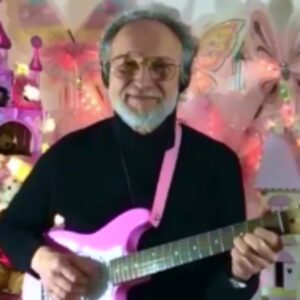 We've been delighted to see some of the results of our Little Beats' project this month, following a creative partnership with Suffolk Libraries.
Regular visitors to Great Cornard Library's regular music sessions for pre-school children may have spotted that 'Tom's Tot Rock' sessions have had a makeover, including the addition of a fairy castle and a pink electric guitar!
Our artists have been working alongside Tom and his fellow librarians, with input from early years experts, to develop their skills in delivering fun and engaging music and movement sessions for pre-school children.
Tom's new sessions are a culmination of a series of skills sharing workshops over the past 6 months. As well as being inspiring and great fun for all, these sessions have helped to explore how best to support pre-school childrens' development through music, as well as creating new resources and inspiration in the form of set design, props, songs and stories.
For anyone in the area that would like to join in, Tom's sessions are currently being delivered online. You can contact Great Cornard Library for details on how to attend, or visit Suffolk Library's YouTube page to view recordings of past sessions.
The next step in the project is to combine all of our learning and create an online resource pack that will be shared with librarians right around the county. The pack will be available on our website from Spring this year.
Tot Rock with Tom is just the beginning! We can't wait to see new pre-school music sessions pop up in libraries across Suffolk this year, and are hoping to develop the project further during summer 2021.