Virtual Reality project funding success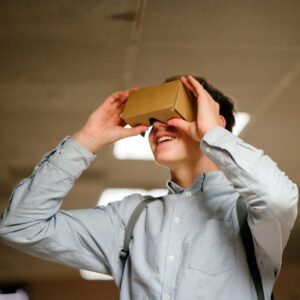 We are delighted to have been awarded a National Lottery Project Grant through Arts Council England to develop a new project, 'VR Adventures', bringing immersive virtual reality (VR) experiences to benefit people in health and care settings.
This pilot project in association with Google Arts & Culture, will focus on using VR technology to deliver participatory creative experiences to improve wellbeing in young people being cared for in hospitals and older people in residential homes in Suffolk and Norfolk.
VR is already being used therapeutically, but we are looking to develop its use in artist-led participatory practice – offering people the opportunity to creatively engage in VR experiences and be involved in developing their own with artists.
Our multi-disciplinary artist teams will deliver personalised virtual tours enhanced by the use of sensory and creative material to people in care homes and hospitals.  Our participants will also work with artists to create new work together, such as poetry, painting or movement, that are then developed into VR experiences.
As part of the project, we'll be joining other arts organisations and collections from around the world as a Partner on the Google Arts & Culture platform. The Google Arts & Culture team will also train our VR Adventures artist team to use their Expeditions resources, which provide immersive virtual journeys of arts and cultural collections and places.
We are looking forward to exploring how creative VR experiences can support people in care settings, as well as developing the participatory practice of using VR in health and wellbeing initiatives to benefit even more people in future. 
A huge thank you to Arts Council England for providing the funding to make this work possible, we can't wait to get started.