We're extending our support for family carers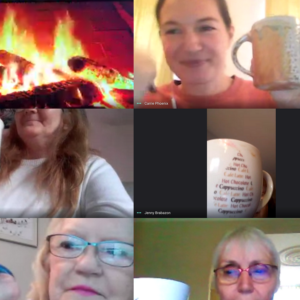 After three years of our successful creative programme for family carers in Suffolk, we are delighted to have secured funding to continue delivering sessions into 2021.
As well as continuing to support family carers in and around Claydon and Lowestoft, we'll be welcoming participants from Bury St Edmunds and Stowmarket to take part in Around the Table.
People caring for an adult family member are invited to attend free creative and social events led by a rich variety of experienced chefs, foodies and artists.
Following UK Government advice, we are still limiting face-to-face delivery of the project, however we will be working alongside a group of professional artists to create novel initiatives for our family carers to take part in from home.
During the summer, our carers enjoyed online cooking sessions together, were sent seed packs for planting in their gardens and received foraging fact files to bring new inspiration to a walk around their local patch – with delicious end results!
Kasia Don-Daniel, Suffolk Artlink Project Officer, explains: "This year has been full of challenges for everyone, which is why we knew we needed to find new ways to reach family carers when face-to-face activities weren't possible.
"We're delighted to have been able to adapt our programme to continue to provide our participants with creative inspiration and welcoming and friendly opportunities to connect with each other.
"We are really looking forward to extending this opportunity into next year, and making it available to people in new locations."
A family carer said of a previous session: "Thank you so much for my edible flower garden pack. This has cheered me so much. Had a difficult day yesterday and to receive these this morning has really made feel better. In all this madness it's easy to feel forgotten."
To find out more about what our carers have been up to so far in the project, or to review recipes, fact files, videos and pictures from previous sessions you have attended, visit the Around the Table blog.
You can find a timetable of future activities here.
Carers are welcome to attend as many or as few of the free workshops as they are able. No experience is necessary and, where relevant, travel costs can be provided.
Places are limited, so please book in advance to avoid disappointment.
To book onto any of the sessions, or to find out more, please contact Kasia Don-Daniel, kasia@suffolkartlink.org.uk / 01986 873955.
This new creative programme is made possible thanks to generous funding from Arts Council England and Suffolk Coronavirus Community Fund.