We're inviting you to get creative to celebrate Suffolk Day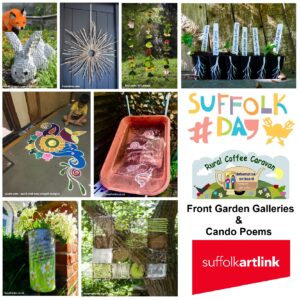 As part of our 'Make, Do & Friends' programme, we're inviting residents across the county to get creative this week in celebration of Suffolk Day on Sunday 21st June.
In partnership with the Rural Coffee Caravan, we'd like you to celebrate our county – it could be something a bit quirky or overlooked – by creating your very own Suffolk 'Cando' poem and displaying it in your garden or window for passers-by to enjoy.
Poet Dean Parkin, one of our Make, Do & Friends artists, explains: "A Suffolk Cando is the local version of a 'limerick' or 'haiku'.
"It usually has four lines. It can rhyme here and there, if you want.
"One line is usually a question and thas roight nice if you get a bit of Suffolk in, y'know, talk proper.
"To get started, picture a Suffolk scene in your mind. It could be a landscape you know well or a building you love or something you overheard in the street. It could be at a favourite time of year or particular time of day.
"You're ready now to write your Suffolk Cando."
Once it's written, be inventive about how you display it. There are lots of examples of Candos written on flower pots and wheelbarrows, plant labels and even bicycle seats at www.makedoandfriends.blog, where you can also find full instructions for writing a Suffolk Cando.
And whether you write it up on card or wood in an eye-catching way, or use objects and props from around your home and garden to decorate it, don't forget to share your creation on Suffolk Day.
Display your poem outside your house or in your window where passers-by can see it and share your creation via twitter, not forgetting to tag @suffolkday @Suffolk_Artlink and using #SuffolkDay. Or you can email a photo to us at: mdf@suffolkartlink.org.uk
Together with the Rural Coffee Caravan and DanceEast, we started the Make, Do & Friends programme of creative social events for adults (55+) living in Suffolk in 2019.
As they can't visit in person at the moment, our team of artists has come up with a variety of online activities for you to enjoy, all of which can be viewed on the project blog site: makedoandfriends.blog