SD Postcards to New Friends
18th January – Postcards to New Friends
Our first session together—and the children were asked to tell us two things people might not know about them and something they enjoyed doing.
From there, it was an easy step to jot that down on a postcard—but then came the strange part.
How do you address a card when you don't know the name of the person you're sending it to?
Simple—you address it to …. A new friend …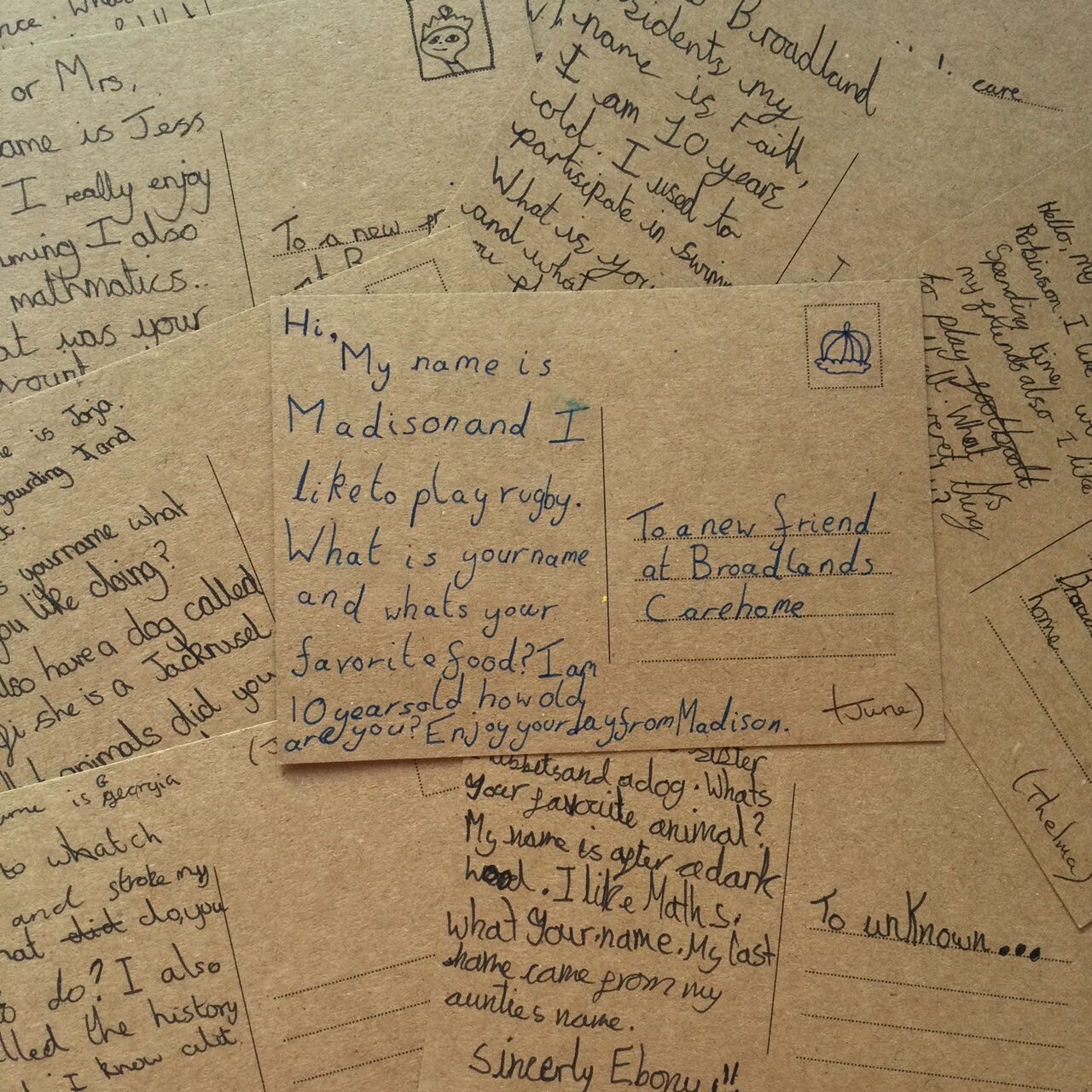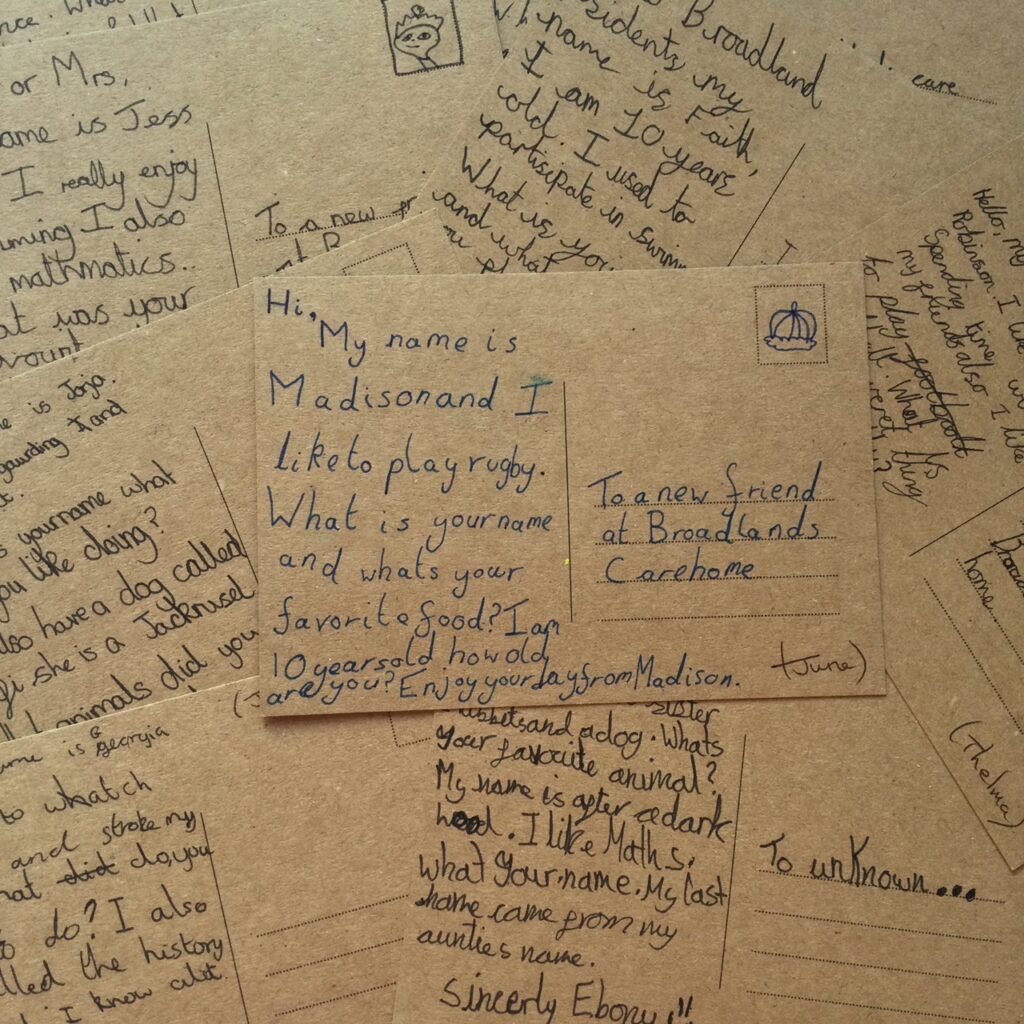 Hi,
My name is Madison and I like to play rugby. What is your name and whats your favourite food? I am 10 years old how old are you? Enjoy your day from Madison. To a new friend at Broadlands Care Home.
… or Mrs, my name is Jess … I really enjoy swimming I also … mathematics. …
… Braodland residents my name is Faith, I am 10 years old. I used to participate in swimming. What is your name and what do you …
Hello, my name is Robinson. I like spending time with my friends also I like to play football. What is your …
… my name is Jorja. … guarding and …What's your name what do you like doing? I also have a dog called … she is a Jackrusel. … animal did you …
… my name is Georgia … to watch … and stroke my … what do you … do? I also …lled the history … I know a lot.
… rabbits and a dog. Whats your favourite animal? My name is after a dark wood. I like maths. What your name. My last name came from my aunties name. Sincerly Ebony =) To unkown.
It's well known that a picture tells a thousand stories—and so we asked the children to draw a self-portrait, as well as write a postcard.
To help them, each was given a small mirror. To make it more fun, they had to do the drawing in one continuous line, looking only in the mirror and not at the paper. Then they got to add colour and details, with glorious results.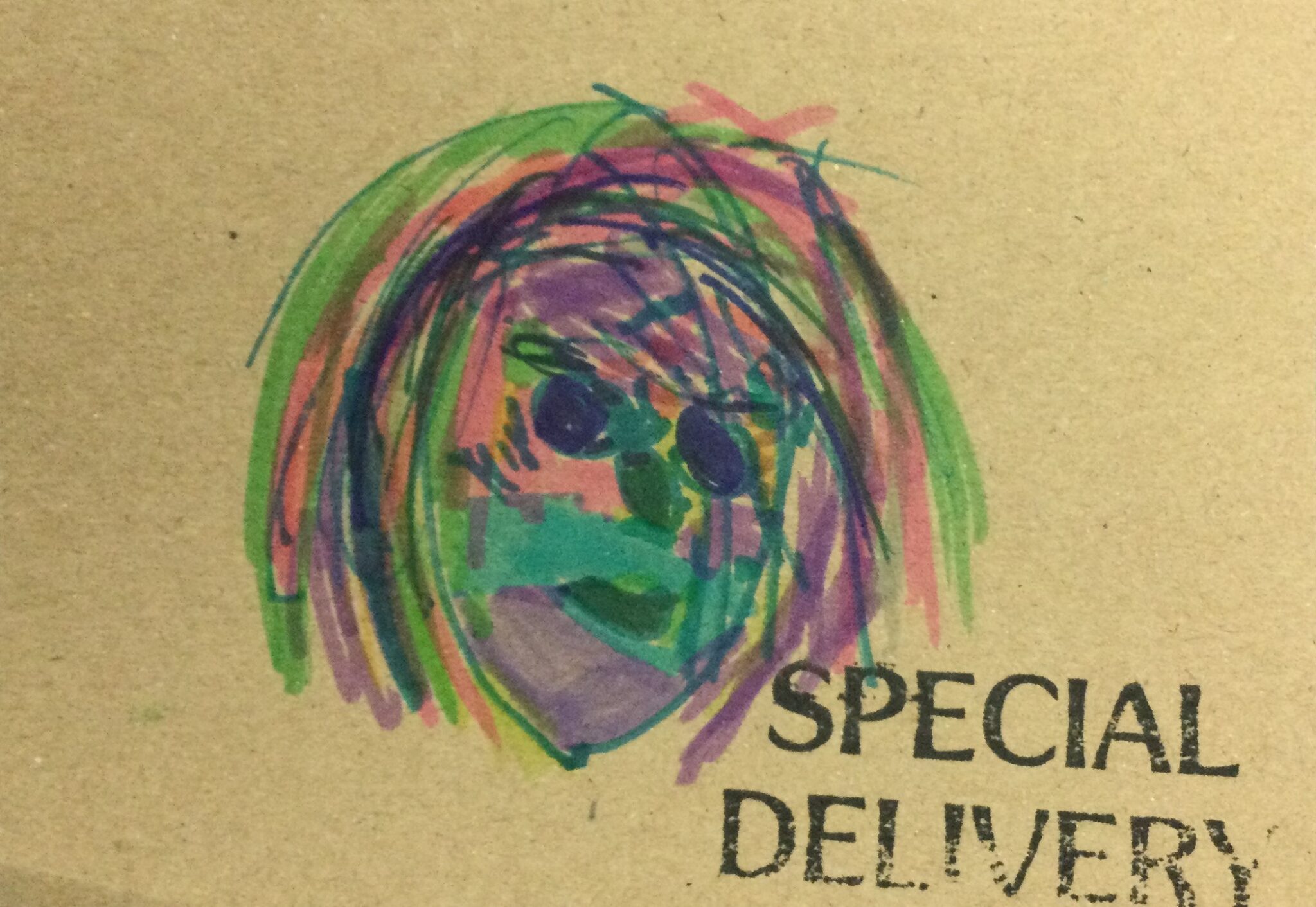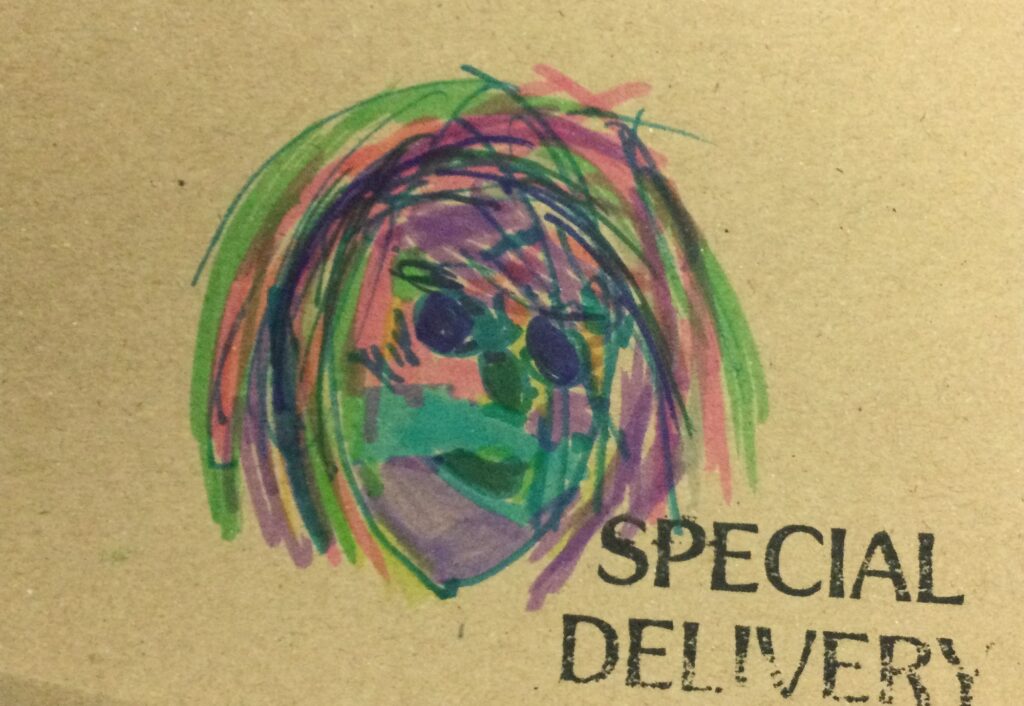 Ink Pots and Tortoise Stoves
Billie Moore's letter prompted the group of residents at Broadlands to discuss their experiences of childhood and school days.
There were stories about teachers who threw ink pots, and writing on slates with chalk and how they had to walk to school and if they were late they had to stay behind afterwards and write lines.
They talked of the 'smell' of schools—disinfectant, carbolic soap, chalk, and coal stoves—and their favourite subjects: geography, maths, cooking and rounders.
Many of these past experiences—and several current ones—were written down and shared back with the children, who were delighted to receive the postcards and amazed that anyone might be 102 years old.
To Faith. Hello my name is Joyce and I will be 100yrs in September I played netball at school and when I was older I played golf I used to go out with my dad and the dog on a Sunday morning to visit my auntie. Also on Sunday about six of us use to go to swimming near the claremont pier. I also went to music lessons to play the piano, do you play an instrument? from Joyce
Hello my name Gladys. I am 90 years old. I use to like walking over the farmer field and catch newts + frogs and take them home in a jam jar. What do you like to do in your spare time. I had a dog called spot it was a whippet.
Dear Eve. My name is Stella and I am 102 years old. I went to freethorpe school and I left when I was 14yrs old. I worked as a companion to a farmers wife. I helped with the cooking. When I was at school I liked netball and Geography & sowing. I've always loved gardening and grew any vegetables to eat. You have neat writing Eve. From Stella.
Hello Georgia. My name is Jane and I have a big brother called Bill. I am very interested in many things, but my favourites are other countries and how the people live. I watch TV programmes about explorers and the wild life they show us. I am 83 and I can't travel any more. I like music. I have a budgie called Bertie. He's green and yellow. Best wishes Jane.
Keep up to date
Subscribe to our newsletter and receive information about our latest work and forthcoming events.
By subscribing to our newsletter you agree to the terms laid out by our privacy policy