A fond farewell to Make, Do & Friends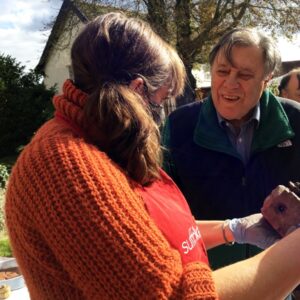 Earlier this summer, we said a fond farewell to Make, Do & Friends, our creative programme aimed at addressing rural isolation in older people throughout mid-Suffolk and Babergh.
What a lot we've done, learnt and delivered since the project began two years ago! And little did we know when we started out how important the provision of creative connections for our rural communities was going to become in 2020.
The first year saw us setting up radio drama listening clubs, singing groups and offering a variety of creative get-togethers, workshops and events in small rural towns and villages such as Westhorpe, Combs and Laxfield.
When the pandemic hit, we had to think on our feet and adapt the programme to ensure it could reach people in their homes and local green spaces (when the weather and restrictions allowed!)
One of our participants said of our newly online radio drama listening clubs: "I've thoroughly enjoyed the creative and intellectual conversation, but more than that, the forming and bonding of a strong group at a time when social contact was so limited."
At the same time as moving some of our existing activities online, we also launched a new blog which invited rural residents to take part in regular self-led creative activities, and share their efforts with each other.
We asked people: 'What is your village made of?' in all sorts of different ways, including inviting submissions by postcard, creative conversations with artists by telephone, online get-togethers and in-person meet ups when possible.
One participant explained: "When you live by yourself it can get quite lonely and this is just a lovely place to come to. I've had 90 minutes of laughing with other people."
A core team of artists collaborated on the project and led activities over the last year, including poets, photographers, film makers, theatre practitioners and visual artists. A huge thank you goes to Dean Parkin, Lynn Whitehead, Gillian Allard, Jacquie Campbell, Caitlin Howells, Arji Manuelpillai and Lewis Wickwar for their contributions.
Together, we provided positive distractions, new connections, as well as supporting our participants to socialise in our new online world.
We created poems, walking route markers and decorative plaques made from forgotten objects in residents' sheds. Despite the challenges we were all facing in 2020, we had a huge amount of fun together, and look forward to developing this stream of our work further in future.
To find out more about Make, Do & Friends, and take part in some of our online creative activities, visit: www.makedoandfriends.co.uk