Brave Art is back! And this time it's personal….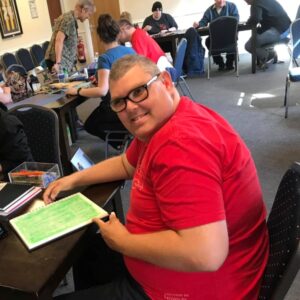 Last week saw the start of a new year of Brave Art, our arts course for adults with learning disabilities. After moving the course online last March, our staff, students and volunteers are thrilled to be back together again, creating in venues across Bury St Edmunds, Ipswich and Lowestoft.
This year's theme is 'One World'. Together, we'll be exploring different landscapes, cultures, dwellings, people and animals from around the globe. Led by professional artists, our students will have the chance to enjoy art forms including painting, photography, music, dance, clay and virtual reality.
Throughout the year, our students will be creating work to show at a special exhibition in September 2022. We look forward to sharing all that they achieve!
As always, the course will take place 10am – 3pm on a Tuesday in Bury St Edmunds, Wednesday in Ipswich and Lowestoft on a Thursday. As well as developing our students' creative skills, we will also be inviting guests to attend the sessions, to help build their confidence, life skills and support networks.
Please get in touch if you are interested in attending the course. We currently have spaces available in Ipswich and would be happy to put you on a waiting list for Bury or Lowestoft.
To find out more about Brave Art, including term dates, costs and how to get in touch, visit our website.