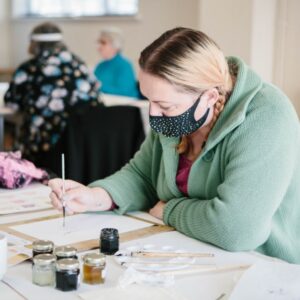 After a really successful Kirkley Creates project, we are pleased to share news of our follow up creative programme – Wild about Kirkley.
We welcome you to learn, grow, eat and share through a second series of inspiring, social and creative bi-weekly get-togethers centred around Kirkley, in Lowestoft.
From now until March 2022, you can enjoy free activities led by artists, Carrie Phoenix and Kasia Posen, plus guests.
From foraging and tasting to learning about local marine life and growing organic vegetables there'll be lots of ways to creatively explore Kirkley and its coastline together.
Sessions take place at The Pantry, Kirkley Church Hall, St Peter's Rd, Lowestoft NR33 0LJ. Everyone is welcome, no experience is necessary. You can attend as few or as many activities as you like.
Activities begin on Tuesday 16th November. You can find out more about future sessions here.
A huge thank you goes to Suffolk County Council's COVID Continuity Fund for Culture (CCFC), who have made this programme possible.