Personal Archives and the Joy of Collage
Last week, we invited Broadland residents to take part in a guided activity to create a personal archive.
Limited to just four items – a thing, a smell, a sound and something that made them smile, the group obviously enjoyed it, as Lee – the activity co-ordinator – explained.
"A great session this morning with our Special Delivery! Some new residents asked to join in as it looked fun. We enjoyed the cards and thinking of things to archive. This created a lovely conversation and the mood was happy, cheerful and everyone enjoyed the morning."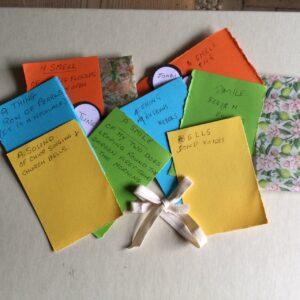 Meanwhile, the children were busy working with their wax resist images, and plenty of other bits and pieces, to collage unique artworks based on their trip to Suffolk Archives and the things the adults asked them to explore.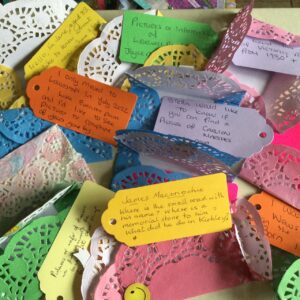 We will share the results in the next couple of weeks.