Suffolk Artlink goes global on Google Arts & Culture!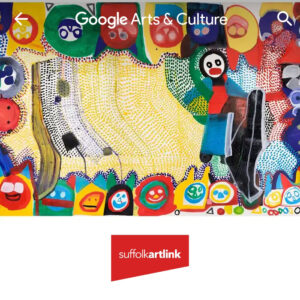 In celebration of Creativity and Wellbeing week, hundreds of artworks and photos from our community arts projects can now be viewed online on Google Arts & Culture by people around the world due to our new partnership with Google.
Thanks to this new virtual exhibition, users will be able to see collections of artworks created by our students and participants, alongside imagery taken at our projects in just a few clicks!
We've specially curated five virtual exhibits for online visitors, and there will be many more to come! The digital exhibitions tell the story of how we are helping people transform their lives through the arts by bringing skills, support networks, confidence and joy to communities in the East.
Suffolk Artlink Co-Director, Hayley Field, said: "We are thrilled to be partnering with Google to share the work we are doing to support communities in the East of England with a global audience.
"It's wonderful to have the opportunity to tell the stories of our projects, and the positive impact they have on people's lives, through colourful, inspiring and moving stories thanks to the Google Arts & Culture platform.
"As well as learning more about our work, a visit to our profile will treat you to a wide range of exhibitions featuring some fantastic artworks created by our students and participants."
Google Arts & Culture puts the collections of more than 2,000 museums at your fingertips. It's an immersive way to explore art, history and the wonders of the world, from Van Gogh's bedroom paintings to the women's rights movement and the Taj Mahal.
The Google Arts & Culture app is free and available online, for iOS and Android. The team has been an innovation partner for cultural institutions since 2011. Google Arts & Culture develops technologies that help preserve and share culture and allow curators to create engaging exhibitions online and offline.