We are recruiting early years musicians!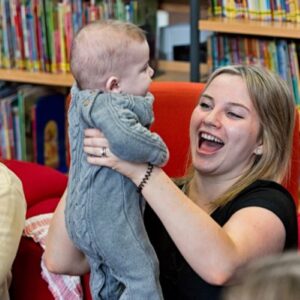 We are recruiting early years musicians!
Are you an early years musician or a musician with an interest in moving into early years music?
We are looking for musicians who are keen to explore the world of early years music to take part in our Little Beats programme.
Little Beats is a partnership project between Suffolk Artlink and Suffolk Libraries.
Early years music engages children 0-5 years of age and their parents/guardians in musical play and learning. Little Beats encourages child-led musical play and parent-child engagement and is a program of continuing professional development (CPD) for both musicians and Suffolk Libraries staff.
Our project Little Beats is looking for musicians who are keen to explore the world of early years music. Throughout the project, musicians will work with Suffolk Libraries staff in a mentor working relationship.
Each musician will be paired with at least one member of Suffolk Libraries staff who works with preschool children. Each pair or small group will work together to create music sessions for a Suffolk Libraries early years music group and deliver outreach music sessions to engage with wider communities.
Musicians will be given the opportunity to attend a series of masterclasses throughout the project. These classes will be led by experts in Early Years practice including academics, music leaders and early years practitioners. Further signposting to other training opportunities and networks will be available throughout the course of the project.
Throughout the project musicians will be required to reflect upon their developments. Some sessions will be programmed to facilitate reflective practice.
The majority of work will take place between January and July 2022.
Musicians will be paid approximately £2040 to deliver a total of 12 sessions and to attend a program of masterclasses (based on a session rate of £120). These fees are inclusive of development, planning and reflection time. A small materials budget is also available per pair and travel expenses will be reimbursed when appropriate.
How to Apply
Send us an Expression of Interest – up to 200 words to tell us about the following :
Your relevant skills and experience.
Why you are interested in this project
Your approach to working collaboratively with different people.
Deadline for Expressions of Interest –
Submit your expressions of interest by 10am on Monday 8th November 2021 to kasia@suffolkartlink.org.uk
Successful applicants will be notified by 5pm on Monday 15th November 2021
We encourage applicants from underrepresented groups to apply, we welcome applications from musicians with non traditional routes into music and/or no formal training.