Guess who's back, back again? (Spoiler alert – it's the Clown Doctors!)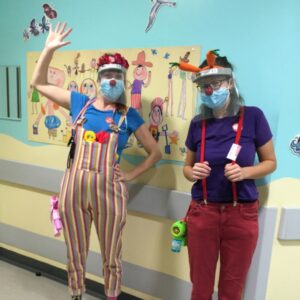 We're delighted to report that our Clown Doctors are once again back on their rounds at the Norfolk & Norwich Hospital's Children's Ward this month.
And whilst most of us have been buying nice comfy leisurewear online, our Clowns have been on the hunt for the best in bubble guns and comedic headgear to fit around their protective masks.
We all know what a great therapy laughter can be, particularly during challenging times like these, so Drs Dizzy, Curly, Misschief, Fidget and Buffflé are making sure that as they increase their social distance they are also upping their social silliness!
We are currently making plans to safely return in person to our other hospitals and hospices across the region and can't wait to get back to bringing much needed joy and distraction to children and their families right across the East very soon.
To learn more about our Clown Round project, please visit our Clown Round page.