Local artist launches Suffolk Artlink Fundraising Campaign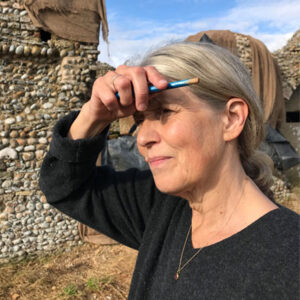 Arabella Marshall is a Suffolk-based glass artist whose work can currently be seen at RSPB Minsmere nature reserve. Her special commission, A Wing And A Prayer, is a piece of public art inspired by the thriving yet vulnerable natural environment at Minsmere, located on the Suffolk Coast.
The installation, which can now be seen in the ancient ruined chapel which stands in the grasslands of RSPB Minsmere, launches an ongoing project using art of all kinds to inspire us to deepen our affinity with the natural environment.
As part of the wider project, in recognition of the work Suffolk Artlink does to use art to inspire our communities, Arabella has teamed up with friend, and Suffolk Artlink Trustee, Kate Axon, to launch a fundraising campaign in aid of our work.
Arabella says: "During a time when most of us have experienced at least moments of mental vulnerability you can imagine how Suffolk Artlink's work is even more important than ever. You can also imagine how everyone is working doubly hard to make sure the services are reaching the people who could most benefit.
"A Wing And A Prayer" is about art being something that everyone can enjoy, take part in and feel deeply touched by. I cannot think of a better expression of this than getting behind the wonderful work and play that Suffolk Art Link brings to people across the county."
We are hugely grateful to Arabella and Kate for their support, and would welcome you to donate – no amount is too small!
To donate to Arabella and Kate's campaign, you can visit their JustGiving page.