Little Beats online resources for pre-schoolers go live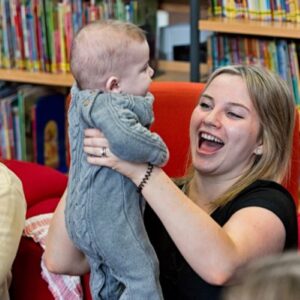 As it's Creativity and Wellbeing week, and the school holidays are coming up, we thought it was a great time to share some new resources with you, designed to help introduce pre-school children to music in creative ways.
Little Beats was a project partnership between Suffolk Artlink and Suffolk Libraries that took place during the last year. Throughout the project, we aimed to improve wellbeing, child development and musical engagement amongst pre-school children.
Little Beats saw our artists joining together with librarians in Lowestoft, Great Cornard and Ipswich, as well as staff and volunteers from Homestart, to share their skills and develop an engaging and fun music offer for pre-school children and their adults.
As well as delivering lots of creative professional development throughout the project, we kick started a peer support group for early years facilitators within Suffolk Libraries.
Head to our website to learn more about the project, and to access a variety of online resources that are for everyone to use with their little ones, including:
Little Beats Environment Tracks – these can be used to explore musical themes with early years children, babies and tots.
Song samples – a reminder of some of the songs loved by little ones.
Tot Rock with Tom – pre-recorded online tot rock sessions led by Tom from Great Cornard Library
Musical tales – a series of, rich and engaging musical stories for children and their adults provided by our friends at Wonderful Beast and Shining Cat
Wishing you a musical and fulfilling school holidays!