SD Broadlands and Oulton Broad Edition
Maconochie in a Pickle!
Nicholas Everitt Park Opens 20th June 1929
School Gone Missing
This newsletter chronicles the 10-week Special Delivery programme, delivered to Oulton Broad Primary School and Broadlands Residential Care Home during Spring term 2022.
You can go straight to each session by clicking on the date in the contents page.
The Special Delivery News, Oulton Broad Edition
Special Delivery brings together primary school pupils and residents in care homes to explore the art of communication, guided by poet Dean Parkin and community artist Caitlin Howells, and inspired and informed by letters and other documents held in Suffolk Archives and county museums.
Westgate on Fridays
For the Oulton Broad Primary and Broadlands Care Home programme, Caitlin and Dean chose letters sent to the journalist Trevor Westgate.
Full of stories of local events and characters, these letters were used by Trevor to create a regular column in the Lowestoft Journal.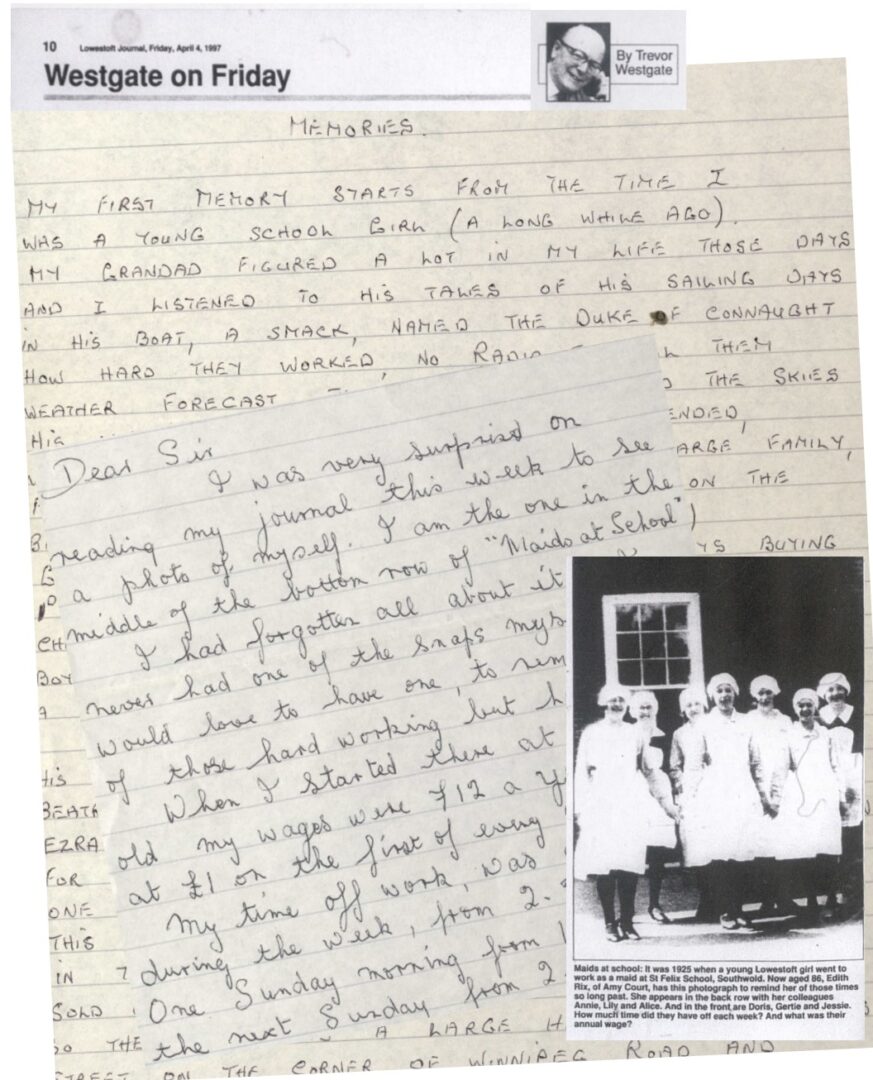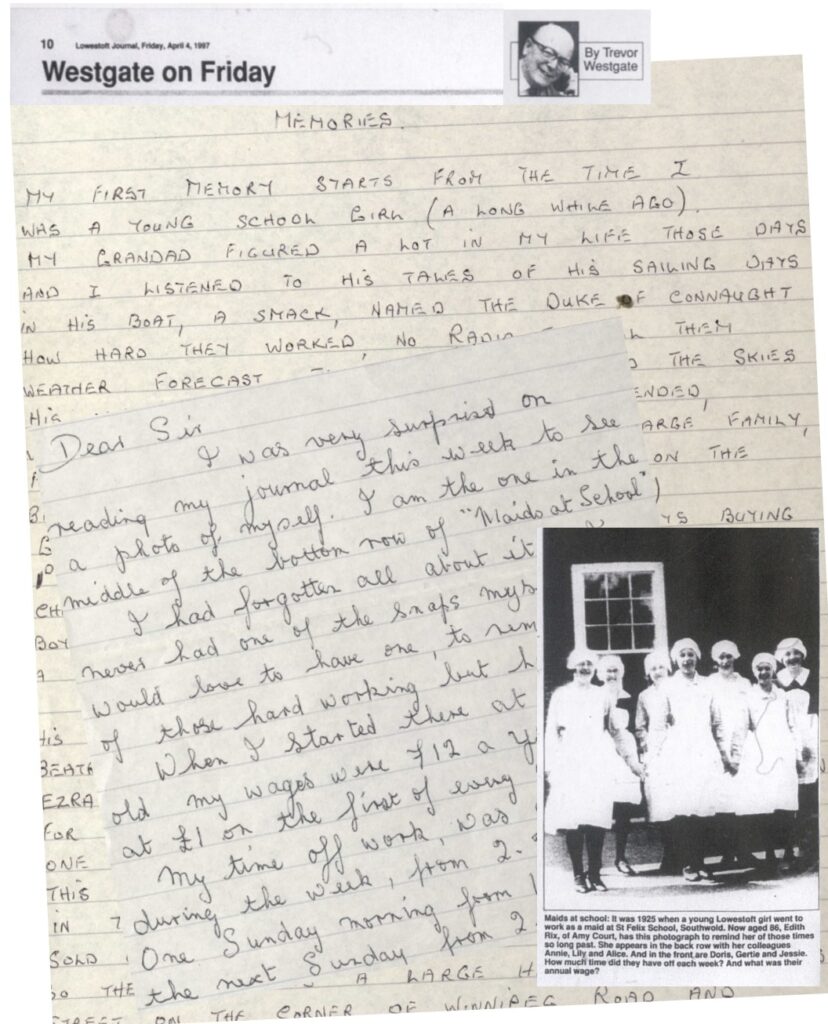 10 Lowestoft Journal Friday April 4 1997 by Trevor Westgate
Westgate on Friday
Memories
My first memory starts from the time I was a young school girl (a long while ago). My grandad figured a lot in my life those days and I listened to his tales of his sailing days in his boat, a smack, named the Duke of Connaught. How hard they worked, no radio …l them weather forecast …
Dear sir
I was very surprised on reading my journal this week to see a photo of myself. I am the one in the middle of the bottom row of 'Maids at school'
I had forgotten all about it … never had one of the snaps myself … would love to have one, to remember … of those hard working but h…
When I started there at … old my wages were £12 a year … at £1 on the first of every …
My time off work was … during the week, from 2… One Sunday morning from I … the next Sunday from 2
Maids at school: It was 1925 when a young Lowestoft girl went to work as maids at St Felix School, Southwold. Now aged 86, Edith Rix of Amy Court, has this photograph to remind her of those times so long past. She appears in the back row with her colleagues Annie, Lily and Alice. And in the front are Dorris, Gertie and Jessie. How much time did they have off a week? And what was their annual wage?
Contents:
18th January– Postcards to New Friends
25th January – First Days at School
1st February – Say it with Flowers & Crafting an Answer
8th February – I Sent You This … penguin?
14th February – Off to the Archives
17th February – A Virtual Victorian Seaside Holiday
1st March– Half Term Headlines
8th March– Wax Resist Colouring
22nd March– The Marvellous Collections
29th March- Easter Cards and Goodbyes
Credits
Special Delivery brings together primary school children and residents in care homes and independent living units to explore and share the art of communication, inspired by documents held by Suffolk Archives and county museums.
A programme of creative sessions led by professional artists encourages participants to consider different generational and cultural approaches to communication, from formal letter writing to the artful use of emojis.
Unable to meet face-to-face, participants exchange snippets of information and news about themselves, gradually getting to know one another and creating stories informed as much by what is left out as by what is shared.
Our thanks to the school and care staff, artists and designers, Suffolk Archives staff and volunteers for their support, enthusiasm—and splendid ideas.
And, of course, an enormous 'thank you' to the children and residents who took part; you all made Special Delivery very special indeed.
Keep up to date
Subscribe to our newsletter and receive information about our latest work and forthcoming events.
By subscribing to our newsletter you agree to the terms laid out by our privacy policy